| | |
| --- | --- |
| HDMI Dongle Demo in hotel room | Plug the HDMI Dongle at Best Buy |
| | |
| | |
| | |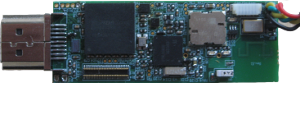 Available now for licensing
If you have any interest to license the HDMI Dongle, please follow this link.
The HDMI Dongle is available immediately for licensing. It comes with an optimized hardware design and a fully Open Source software solution including Angstrom, Ubuntu and Android. Always Innovating has also patented many of the innovations around the HDMI Dongle including its design. Any licensing agreement comes with Always Innovating IP umbrella.
The HDMI Dongle design can also be used for a tablet or MID project: an expansion slot features LVDS connectivity. With Wi-Fi, Bluetooth, accelerometer and NFC on the dongle, you just need a battery and a screen to get your own iPad design!
Innovative remote control

The HDMI Dongle comes with an innovative remote control which features nine buttons for easy navigation, an accelorometer to play games, and voice recognition to control the Android user interface as well as input text, and NFC support for tap-and-share experience.
Open Source

All Always Innovating solutions are fully Open Source. Always Innovating is proudly participating, sponsoring and collaborating to many Open Source projects.

Licensing the HDMI Dongle gives access to hardware reference design but also privileged support and assistance to our public git repositories.
Full specifications
TI Dual Cortex-A9 OMAP 4 (1.0 to 1.5GHz)
256MB to 1GB RAM memory
Storage: MicroSD card
HD 1080p H.264 profile 4 video decoding
Wi-Fi 802.11 b/g/n, Bluetooth class 2.1
NXP NFC solution
Voice control
Accelerometer-based RF remote control